How do I get started as a patient?
NOTE: Our psychiatric consultation practice is currently full.  The links below will allow intake forms to be completed, but all new applications will be canceled and refunded until further notice (even if the software provides tentative schedule options).  Using the schedule/intake software is not a guarantee of service or confirmation of appointment.
For the online new patient application:
New Patient Application Ages 5-17

New Patient Application Ages 18-64

How do I pay for my consultation?
If you use our (optional) online scheduling software, it has integrated payment by e-check or credit card.
If you did not use our (optional) online scheduling software:
Click here for PayPal
Click here for Square Cash
Checks or money orders may be sent to the provided mailing address.


Is this practice a good fit for everyone?
Not necessarily….but it is a great fit for some!  Dr. Terry's primary roles are in consulting with larger systems, providing expert witness testimony for the legal system, and in educational/faculty positions.  Direct consultation with patients is a small, but important piece of the puzzle.
Many patients and families seeking mental health or functional medicine consultation may require more services or availability than can safely be provided in Dr. Terry's small consultation practice.  Prospective patients will be advised if this practice may not be a good fit.
Does Dr. Terry accept insurance?
Dr. Terry's private practice is not contracted with any commercial or third-party insurance payers.  Insurance companies do not adequately allow the extensive amount of time, detail, and flexibility it often takes to complete a comprehensive psychiatry or Functional Medicine assessment and treatment.  Dr. Terry has established this practice to provide more detailed care, better accessibility, and longer visits than are generally available in insurance models. This model is about offering more than the high-volume, impersonal, quick visits covered by many third-party payers.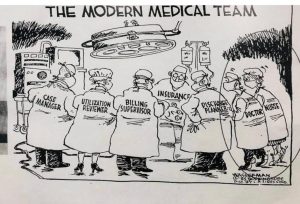 WHY WOULD I WANT TO PAY PRIVATELY FOR SERVICES?
By choosing to pay privately for psychiatry services, one may find more flexibility, detail/time, convenience, and privacy.
Flexibility: Often in our medical system, we work on diagnoses, and insurance requires a certain level of pathology to qualify for reimbursement.  Many patients instead want to work on exploring health, building skills, or having a safe place to process difficult educational, work or family changes. If one would like the focus of visits to be about personal goals and not ones that are dictated by insurance requirements, private pay may be a great option.
Detail/Time: Good work takes time.  Dr. Terry regularly spends 90-minutes with patients at a first visit and 4 or more hours preparing for that visit.  This is a total paradigm shift over the "15-minute med check" authorized by many insurances.  One analogy is that the bus is a great form of public transportation, but some trips are well worth hiring a private, personal driver.
Convenience: Many insurance companies require that you select a provider that has been approved by them, known as "in-network."  With private pay, the patient regains control of seeking his or her preferred service provider that is compatible to his or her needs, specialty training, and comfort level.
Privacy: Last, by choosing to pay privately for services, the patient is electing to seek more confidentiality as private health information is not required to be shared with insurance if not paying for services through them. Some people also choose private pay when they are worried about having a pre-existing condition on their health record.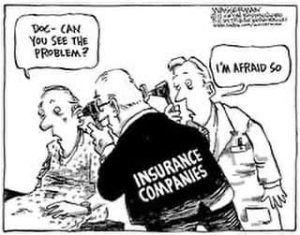 Can I submit a bill to my insurance on my own?
For those with private insurance, a superbill (itemized health care receipt) may be requested for the patient or family to submit.  Many PPO plans may reimburse for labs, a portion of office visits, and medications.  We cannot make any guarantees of insurance reimbursement, and some insurances may require additional documentation, contracting, or business information we are unable to provide.  Administrative fees for doing insurance paperwork and responding to insurance inquiries sometimes exceed the reimbursement patients receive from their insurance.  If insurance reimbursement is a priority, we recommend pursuing an in-network practice instead of working with this office.
Does Dr. Terry accept Medicare?
Unfortunately, due to the reporting, charting, limited coverage for some services, and other requirements for Medicare, Dr. Terry is unable to see Medicare beneficiaries in this practice.  You may choose to visit with him in one of his other clinical settings if you are a Medicare beneficiary.
What CPT billing codes are used?
Generally, new visits are 99205 + 90833.
Follow-up visits are often 99214 + 90833. 
ICD-10 and DSM-5 diagnoses are used when possible but may not cover all symptoms or services discussed.
How much do services cost, and how long are the visits? How often will I see you?
New patient consultations currently cost $549.  This includes not just the visit, but also the (usually) hours of research, chart reviews, and preparation needed before the visit.  New patient visits usually last 90 minutes.

  Dr. Terry will typically spend 4 hours or more preparing for an initial consultation.
Follow-up visits range from $249-$299 and are billed based on services provided and time.  Follow-ups usually range from 30 to 60 minutes and are scheduled about every month until there is improvement in symptoms.
Prescription refills will only be sent a maximum of 90 days from the last kept visit, as psychiatric medication management requires regular monitoring for safety and tolerability.
Psychotherapy visits may meet more frequently.
Phone calls, secure messaging, prior authorizations, documentation, disability forms, letters, revisions, refills, and other services requiring more than 5 minutes are generally billed by the quarter-hour at $299/hour.

 
For those seeking regular consultation, ask about our discounted, paid-in-advance membership services or "annual passes."  This is a great option for patients requiring monthly visits for stimulant or other controlled medications as well as those pursuing psychotherapy.
There is no difference in cost between in-person and telemedicine (distance) services.

 
Do you offer any discounts or a sliding fee scale?
Yes!  A percentage of services are provided for free.  Please note: our free services fill quickly and may be in adjacent settings to improve access.  We do not offer a standard "sliding scale," as this may further disadvantage certain applicants.
Dr. Terry does considerable pro-bono volunteer work, teaching, and work with non-profits to further expand impact and access.
For those seeking regular consultation, ask about our discounted, paid-in-advance membership services or "annual passes."  This is a great option for patients requiring monthly visits for stimulant or other controlled medications as well as those seeking more regular psychotherapy.
Does Dr. Terry provide in-person services?
Yes, Dr. Terry provides services at a confidential location in central California.  Out of respect for his patients, directions will be provided when booking the first appointment. 
What about telemedicine services?
Dr. Terry is proud to offer telemedicine services statewide in California.  There are certain limitations to this service including but not limited to inability to perform a complete physical exam and federal restrictions on the prescribing of controlled/scheduled prescriptions without an initial in-person visit. 
What is your controlled medication policy?
Controlled prescription medications can be dangerous and are subject to federal and state laws as well as standard-of-care prescribing practices. If medications are not used carefully, the patient can have side effects, become addicted to them, or overdose on them. An overdose can cause death. Because of these dangers, it is important for the patient or guardian to understand the rules for using these medicines. This document describes our policy for prescribing these medicines and what your role is to keep yourself safe and get the best results if you or your child use controlled medications.
The risks, side effects, benefits of, and alternatives to the controlled substance medicines have been explained to the patient or guardian and he/she has had all questions answered.
Prescriptions medicines are prescribed to help with function. If the patient's activity level or general function get worse, we will change or stop the medicines.
Medicines are only part of an effective treatment plan.  The patient will also participate in other treatments that the provider recommends, such as psychotherapy and/or physical therapy.
Controlled substance medicines are to only be taken as prescribed. The patient will not change how he/she takes these medicines without first talking to the prescriber.  Controlled substance medicines must be kept in a safe place AND away from children (except as prescribed).
Controlled substance medicines may only be filled from the provider(s) on the care team and from the same pharmacy.  It is the patient or guardian's responsibility to report any changes to the prescriber(s). Other health care provider(s) the patient sees must be informed that the patient is taking controlled substance medicines.
The patient may not get controlled substances from other clinics or Emergency Rooms. If the patient is prescribed controlled substances from another provider for other reasons he/she will tell the provider here.
The patient must make follow-up appointments as directed and will not miss appointments. I understand prescription refills cannot be handled over the phone, email, or other remote means.  In general, monthly follow-up will be required for the first six months or any time a dose change is needed.  No controlled medications will be prescribed beyond 3 months from the most recent visit.
No extra or early refills will be issues for any reason including if the controlled substance medicines are lost or stolen.
Medications may not be combined with alcohol illegal drugs (cocaine, heroin, methamphetamines) or with any controlled substances my provider did not prescribe for me.
The patient may not share, sell, or trade controlled substance medicines with anyone. Urine or blood may be checked to see what drugs the patient is taking at any time.
The patient must agree to bring medicines to clinic if asked to do so.  If there is reason to believe I have engaged in illegal activity, the prescriber may notify the proper authorities.
The provider may contact other health care providers or pharmacists involved in care to discuss progress and share information about this agreement.
I understand that if I (or my child) do not follow the agreement above, I (or my child) may no longer receive controlled substance medicines
How much do expert witness, professional consultation, and other services cost?
Professional and education-only services and system consultation are generally provided at $600/hour, though may vary with individual contracting.
Expert witness chart review is generally billed at $600/hour.
Depositions are generally billed at $600/hour with a minimum of 4 hours.  Trial fees are billed at $6000 per day plus travel expenses.
Private Practice Consultation for physicians is usually billed with a one-time fee of $1499/service.
How do I find information on the Physician Payments Sunshine Act Open Payments database?
For informational purposes only, a link to the federal Centers for Medicare and Medicaid Services (CMS) Open Payments web page is provided here. The federal Physician Payments Sunshine Act requires that detailed information about payment and other payments of value worth over ten dollars ($10) from manufacturers of drugs, medical devices, and biologics to physicians and teaching hospitals be made available to the public.
The Open Payments database is a federal tool used to search payments made by drug and device companies to physicians and teaching hospitals. It can be found at https://openpaymentsdata.cms.gov.